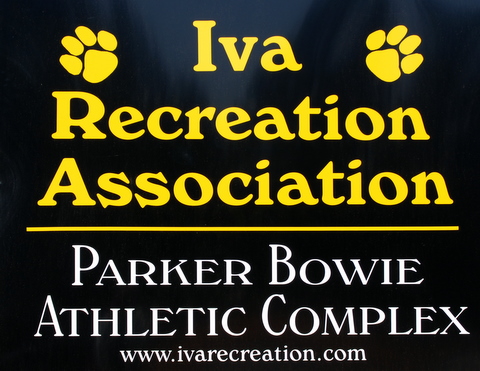 2019 Baseball, Softball, Tee Ball and Wee Ball
Registration is available online anytime at www.ivarecreation.com/registration
Signups are open at Iva Town Hall from 6:00 pm - 7:00 pm

Monday January 28
Monday February 4
Thursday February 7
Monday February 11
Monday February 18
Tuesday February 19
Children and youth ages 3-12 are eligible to participate.
Age cutoff is August 31 for softball and April 30 for baseball.
Registration Fees are $55 for 8-12 and Under Baseball and Softball and $45 for Wee Ball and Tee Ball. Registriation fee does not include the bottom half of the uniform.
Registration Information 2019 Printable Flyer

The Iva Community Recreation Association is a non-profit organization that provides youth athletics to the youth of our community.
The Mission of the Iva Community Recreation Association is to provide a Christian based environment so that area children and youth can be challenged to succeed to their highest potential in the sports programs they choose, led by an exceptional, caring staff and positive environment enhanced by our community support.